Gucci Belt
Gucci belts are one of the fashionable accessories in every fashionista s wardrobe. Straps are here to hold around the waist, supporting the clothes and making the waistline appear slimmer. Gucci belts are the most iconic accessory for the girls. Everyone needs this belt at every point in time, and these are made up of different types of materials and can style in different ways. Many people ask that buying a Gucci belt is worth it or not. Gucci belt is still worth buying because it is a classic piece and versatility. Moreover, it depends on the individual. 
History of Gucci Belt
This leather accessory is more than the Louis Vuitton LV belt or the Chanel belt and has a place in Gucci history in every way. At that time, the epitome of the Gucci belt is the inspiration of horse bites. It was a style that they still produce. We all know Dapper Dan, who is a famous American fashion designer, enters the game to take full advantage of the brand dusty appeal. He launched a fashion line with Gucci; he now works with the brand and continues to develop the related accessory with this belt bag.
Types of Gucci Belts
Black Leather Belts with Double G Buckle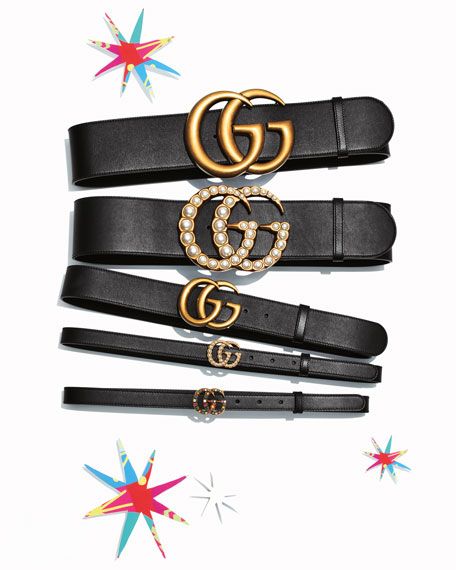 Gucci black belt is a must-have accessory for fans of the iconic brand that screams simplicity with style for women. Its black leather is of top-notch quality, while the new Double G buckle is the icing on the cake. The Italian-made belt is made from smooth leather and embellished with the iconic GG logo. You can style this leather belt with a blouse and skirt or a crop top and jeans. Not only black, but it also comes in white colour, dusty pink shades, while the one with crocodile leather is the most luxurious of them all.
Guccissima Belts with Interlocking G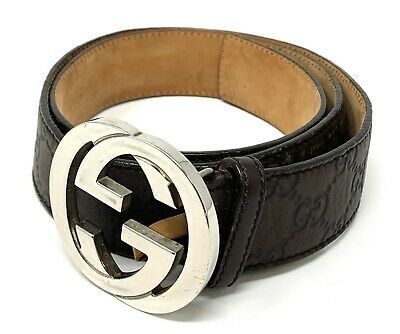 You can create your look with this belt from Gucci. The strap is simple and elegant. It has a sleek G buckle and a Guccissima pattern, and that's how it is named. The strap has a dark brown leather with silver hardware. It ranges between 20k to 35K INR. There is one more belt in this family called square G. The main difference between these two belts is the shape of the buckle. This square shape to a belt looks stunning when it is allowed to expose whatever the outfit that you wear.
Supreme Gucci Belts with G Buckle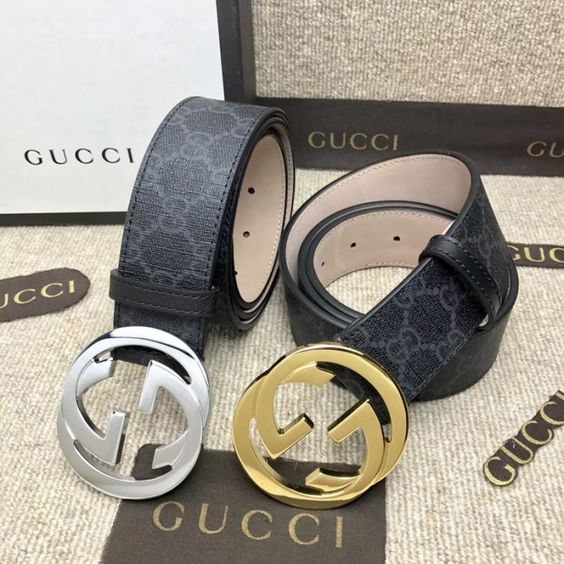 Gucci GG Supreme belt with a blue and beige combination, and it has a finishing with an interlocking G buckle. Its material was eco-friendly. Its width is 1.5 inch which is perfect for hip or waist hold. Fitting will differ based on where the belt is used; please refer to the size guide before you purchase it. It can be styled on torn jeans with a regular white-coloured top to give this blue design a great look.
Leather belt with Horsebit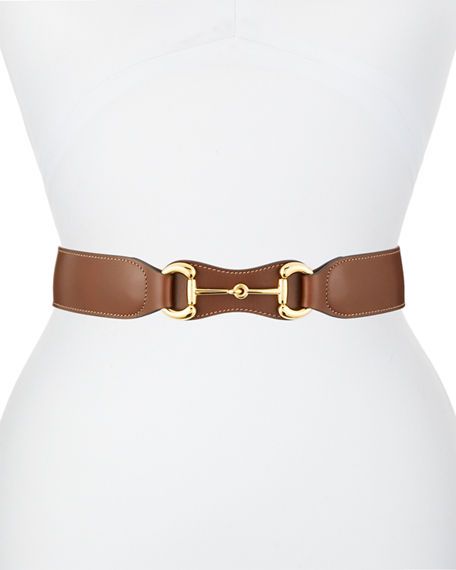 This belt has a square buckle that can either put its front side or backside of the belt. It is first designed in 1950 and named as a legendary belt ever. There are different varieties in this model. Some come with a double G buckle and some come with a hinge in between the edges. Every girl likes this accessory on the party wears and a single piece. It tries to hold some loose sweaters when you put it as waits belt. Try this Horsebit Gucci belt next time when you feel you are out for a party with a stunning outfit.
Gucci Leather belt with Snake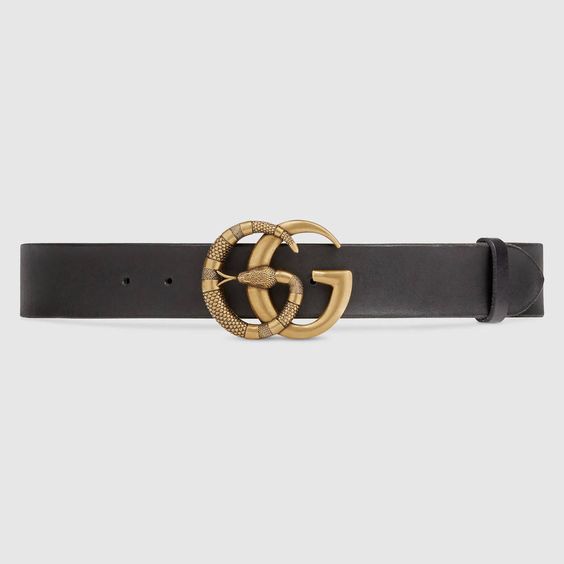 We can see one more style in leather belts, which is some funky snake shape in Double G buckles. Who doesn't like these styles in classic brands? This style is not unique from the leather belt with double G buckle. It is similar to the leather one. Only the difference is you can find a merely styled G with a snake symbol on it. A minute design is in the first G, the one with a snake symbol. Every outfit that suites for a leather belt are perfect with this legendary piece. Don't hesitate to style up with skinny jeans and tops with black colour which hides the strip and highlights the buckle. 
Dionysus GG Supreme Belts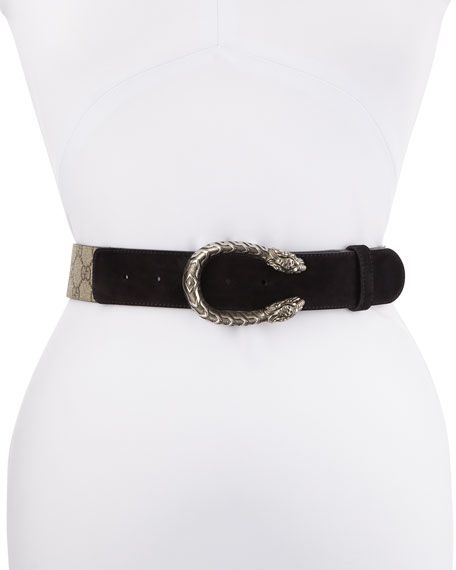 Dionysus was the ancient Greek god of wine, Gucci belts and bags are named after the Greek god. It has a U-shaped closure with some textured tiger head. In beginning days Gucci released bags with this Dionysus and Marmont style, later they started manufacturing belts. Dionysus belts and handbags have a tag line called " Design of God". They look fantastic, and every girl will like the built quality and texture of that U shaped Dionysus on both belts and bags. Search for Dionysus bags on Google and find out the stunning bags around. In 2015 they were introduced, and still, the momentum for Gucci Dionysus is ON. The belt is versatile and can wear on any outfit during any season. Pair of wide-leg trousers or flirty mini dress with knee-high boots will suits perfect. 
Pearl Double G leather belts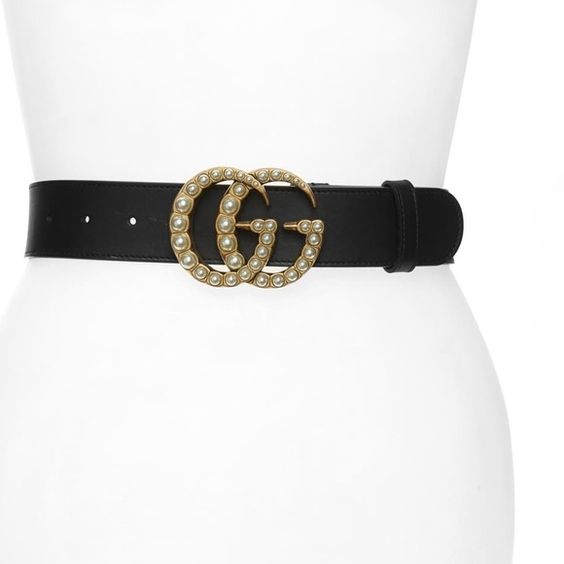 Pearl belt is a classic piece in Gucci belts. It appears like both the letters on the leather belt were stuffed with pearls which are of different sizes—placing different sizes of beads according to the extent of "G" which looks attractive and classic. The pearls are actually in a hold position, and it doesn't look like inserted. These white stones give an ultimate look when you pair up with a black leather belt and a black mini. Accessories like a pearl necklace or bracelet will be added sugar. Try this belt for your next night party with any crop top with jeans and share your comments below.
Web Gucci Belt with Bee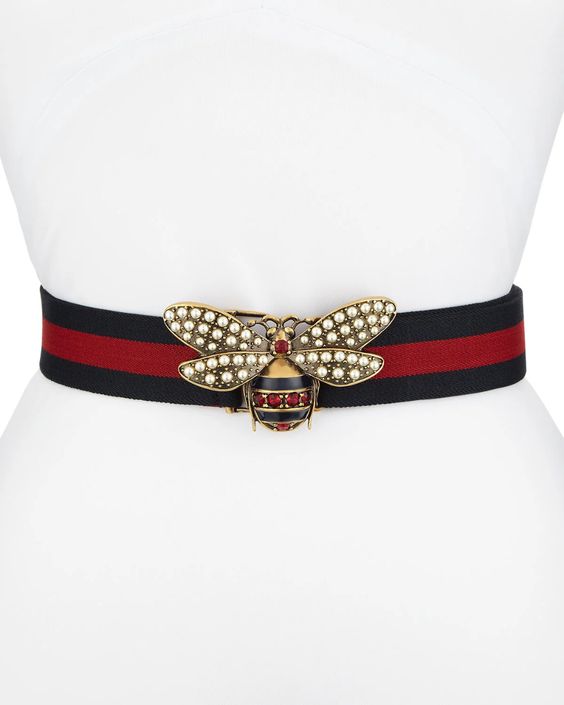 In 2015 web belts with bees are introduced. Gucci fans who like classic style, also love these funky belts which come with web style instead of leather. This model should have a minimum of 2 colours on the strap so that they look attractive. Coating with white stones those Bee wings, it gives pearls look. They are available in two classic styles and one dubbed Sylvie style. You can dress up with any outfit you want. You can find some accessories like watches or bands that exactly match the strip colour of your bee belt, which gives a fantastic combination for your outfit.
Strip Gucci belt with Crystals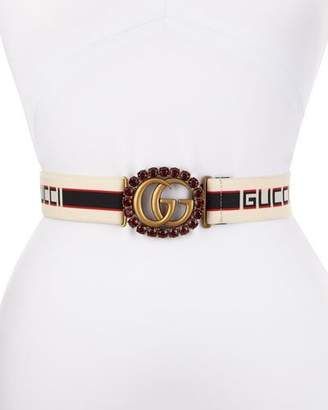 These belts with crystals are elastic and very comfortable. It has a great structure. Crystals surround it both G in the buckle. If you are peering for something special to spice up your casuals, then don't think a second to choose it. These crystal belts are the most cheerful belts for women and can even wear on trench coats.
Chain belts with crystal structure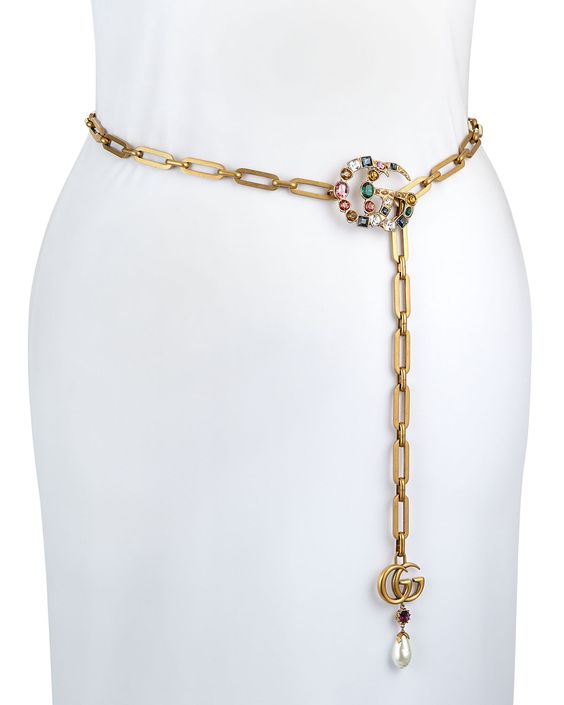 As I said, the crystal structure is one of the most cheerful belts for women, and the chain belts are also an excellent choice for any outfit. Imagine if both amenities are in one belt! Yes, the combo of chain and crystal structure in one belt is an ultimate choice for a fancy look. Girls who like unusual items with their outfit can go for it.