Introduction
Over the knee boots commonly called as riding boots initially created in the 15th century. They are meant for extra protection for legs when on horseback during the 15th century. But now the shoes are modern fashion, besides, protect your legs. Over-the-knee boots designed for both male and female, but now they are widely available for women as a fashion point of view. Below mentioned are the Tall boot Ideas described in detail.
Over the knee boot outlook Ideas
Long sweater with scarf and hat

To get a casual look with tall boots, you can choose an over sized sweater with a scarf. Irrespective of size and shape, anyone can look attractive in this outfit. With bulky pants, it would be difficult to wear during cold weather. So select an over sized sweater with a matching scarf which gives you best look in winter. Added knitted winter hat with matching boots would give a sexy look. Find a pair of socks if it is too cold, Thin outdoor socks can work.
Leggings and stockings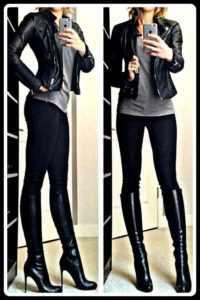 The combination of leggings and knee-high boots is the hottest outfit for a slim girl with a black leather biker jacket. She can also use jeans instead of legging or stockings for all casual looks. Irrespective to the color of tall boots she can wear blue or black jeans with or without shaded. Accessories like beanie, biker's jacket will give an added look. Check Out: The Fashion Info – Before-After
Knee Boots with Skirt and stockings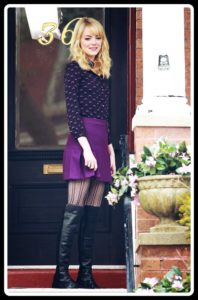 Using a skirt with tall boots looks casual and elegant, which is suitable for any event, but it depends on skin nature and height. Tall girls look more pretty in a combination of knee-high boots with skirts and stockings. She can use any T-shirt with skirts and stockings. But full sleeve top and a hat give a professional look. When using socks, the full sleeve suits with loose hair. Using stocks will relieve from the discomfort of a long hot day. Accessories like small bags and some chains can give a better result to look attractive. Added Beanie will also be a preferred idea.
Denim shorts and T-shirt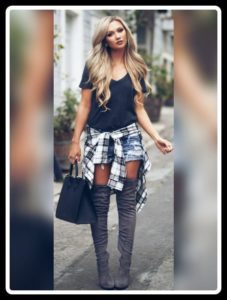 Denim shorts with sleeve and sleeveless T-shirts are a natural look for summer. Using slips and tall boots also look great for summer. For short and straight hair girls, the ponytail will give added beauty to their outfit. Girls with curly hair can loosen it and match up with some stunning accessories like sunglasses and long length side bags. Tie a shirt around your waist for a rough look. This style of outfit is more suitable for parties and pubs.
Knee boots with Over sized hoodie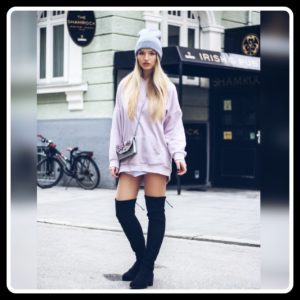 It could be the best outfit for fair and thin girls who are willing to wear an over sized hoodies on bare legs. Even for girls who look fresh and bubbly, bare legs gives a smoldering look. Cuteness overloads using beanie for slim girls. Accessories are not the right choice when using hoodie. Anyhow, matching beanie would work.
Poncho with Boots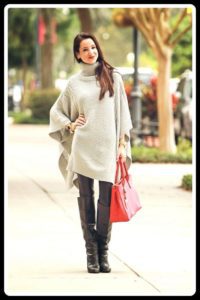 A poncho and over-the-knee boots are a quick and easy look to put together. Wear the poncho with a long-sleeved shirt and skinny jeans or leggings. Poncho is just a replacement of a jacket. Pair the boots with thick socks that don't make your tall boots too tight. You can wear a thick, jacket-like poncho with faux-fur during cold weather conditions. Knit cowl neck poncho gives a trendy look that shown in the picture.
Button-Down shirts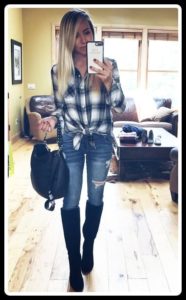 This type of outfit is also suitable for the fall season. Printed or plain button-down shirts and skinny jeans with knee-high boots during cold weather and mini skirt during warm weather will be the best choice to put on.
Knee boots Long coat style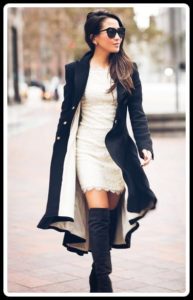 It is a classic and stylish look wearing a long coat on one piece with those boots. Accessories like sunglasses and branded handbags give some royal finishing to your look. One thing to be noticed in mind before choosing this outfit, the color of the long coat should match the color of the tall boots. It looks decent if it matches, no need for any beanie or hats, in this case. Loosen hair looks more suitable that covered.