Introduction
Love wearing monochromatic neutral looks? They are easy to style, they look effortlessly chic and if you wear mostly neutrals, you probably have a very versatile wardrobe. While there is absolutely nothing wrong with a neutral or monochromatic wardrobe, you may be finding that you want to embrace more color or spice up your style with more colors—especially as summer rolls around.
If you're an all-black-everything kind of fashionista, you may cringe at the thought of wearing cute bright clothes and stepping outside of your monochromatic comfort zone. But we are here to tell you that it is totally okay to branch out and start weaving some more color wardrode into your life.
It's also a very exciting time to wear color since the trends call for it. We are seeing bright neon hues on the runways, as well as complementary colors meshing together to create visually-impactful looks. Whether you're someone who wants to fully commit to a more colorful wardrobe or you want to take it slow, you'll be excited about incorporating more color into your outfits at the end of this article.
Without wearing a fuschia look from head to toe, here is how you can easily wade into the world of color while staying true to your monochromatic and neutral roots.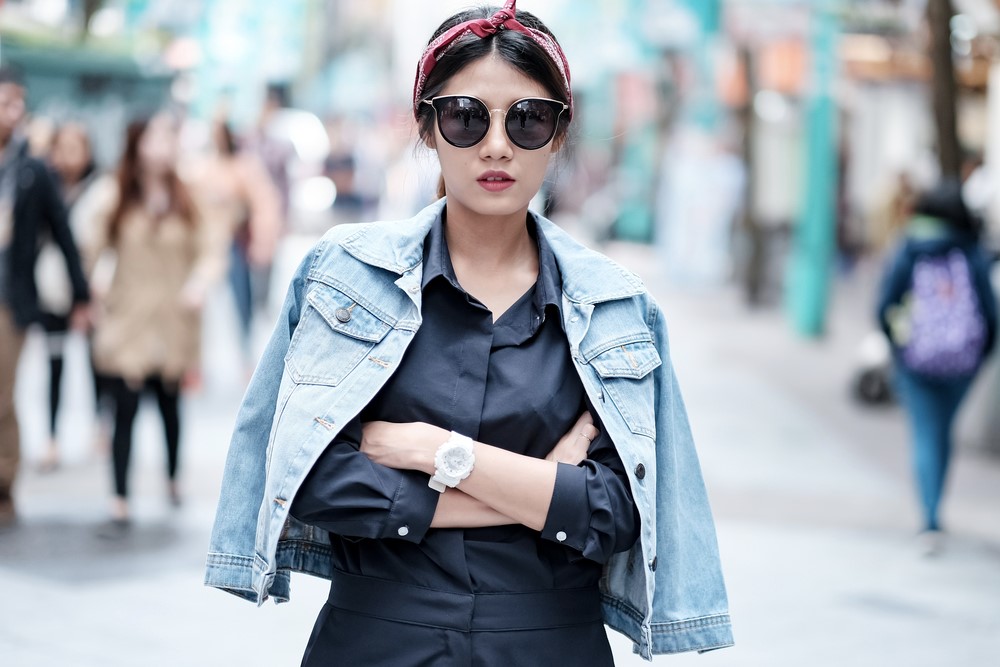 Pop on Color with a Headband – Color Wardrobe
Whether you love wearing headbands or you don't have much experience with them, sporting a headband can be a fresh and subtle way to incorporate more color into your wardrobe. From embellished headbands to simple accents, this accessory will brighten up any look. Whether you have more of an edgy or glamorous style, headbands come in every style and color. So you're sure to find one that fits in seamlessly with your outfit.
Let Your Shoes Do the Talking – color wardrobe
Are you someone who gets dressed with their shoes first and then plans an entire outfit around the staple? If so, try incorporating more color into your look with your shoes. Whether you love a pair of strappy heels or fashion sneakers with some sneaker matching apparel, throwing on a pair of brightly-colored shoes can really add emphasis to your look. If you're not crazy about going with a bright red shoe, try shoes or heels that have colorful accents that are subtle.
Try Color-Blocking – Color Wardrobe
Do you love to create visually-impactful outfits that are stylish and head turning? If so, one way you can incorporate more color into your wardrobe is to style colorblock clothes. These styles thoughtfully pair color with neutrals in a way that's visually stunning. And this also means you get to embrace the neutral colors you love while also making room for brighter hues. You can also try color-blocking with your tops and bottoms. If you're feeling adventurous, you can pair two complementary colors with each other for a brightly color-blocked look.
Embrace Florals – color wardrobe
One quick way to throw more color into your wardrobe is through florals.—whether you are ready to take the plunge into a more colorful look with flattering floral dresses or tiny floral accents like a belt or handbag sporting the print. Florals range from being brightly-colored to including more muted colors. Either way, the print is versatile and most everyone—no matter their personal style—can find a floral print that translates to their personal aesthetic.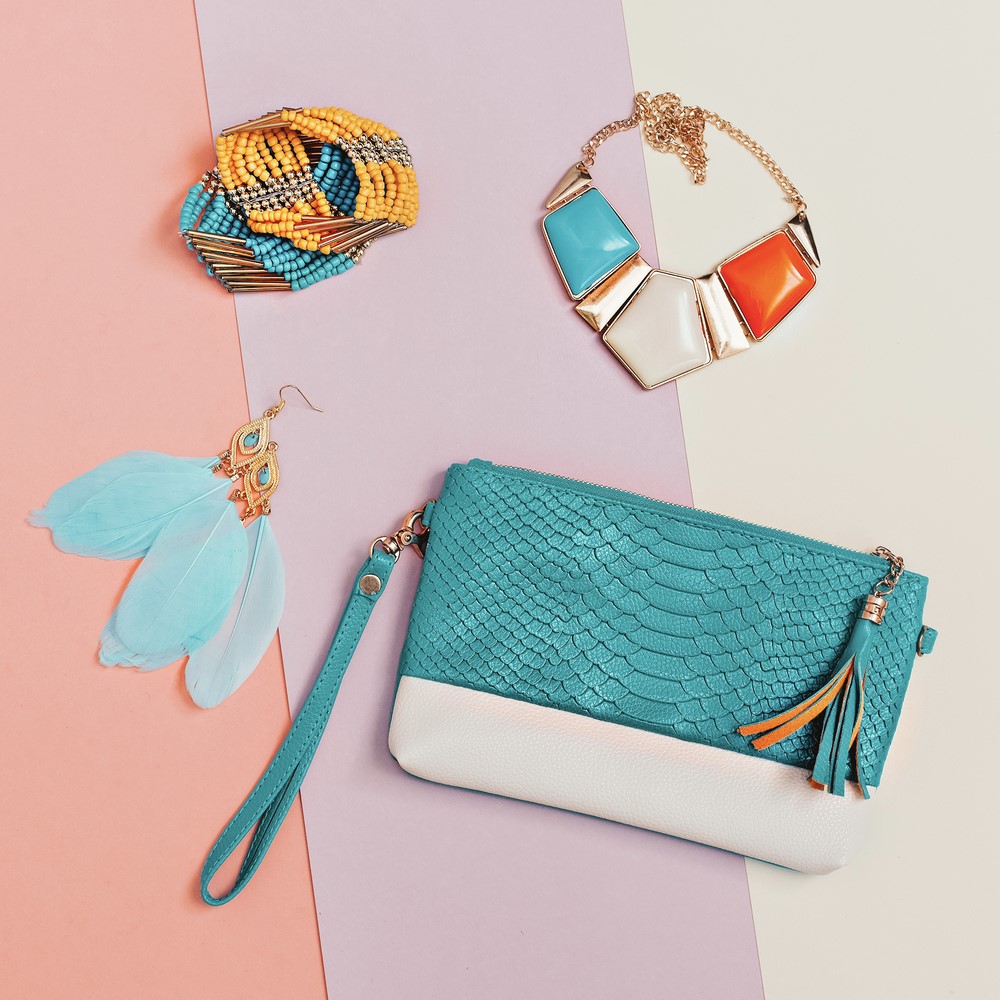 Accessorize with Color
If you want to spice up a monochromatic or dull look, you can always pop on brightly-colored bracelets, earrings or necklaces. Don't underestimate the power of a pair of statement earrings or a bold bracelet. While these are tiny, colorful accents, they can create emphasis and brighten up any look.
Style a Statement Scarf
A quick way to add a pop of color to an elegant look is by throwing on a chic neck scarf. Neck scarves are extremely elegant and they can bring a touch of color to your favorite outfit. Whether your look is more casual or formal, neckties and scarves can be styled up or down to blend in perfectly for any occasion.
Pop on a Bold Lip
While lipstick may not technically be a part of your wardrobe, it's a great and easy way to bring more color into your style. Even if you're wearing a monochromatic look, a bold lipstick color will turn your look up a notch. Obviously, red is a great lipstick color choice, but we also love orange, pink and purple hues. Find a color that best suits your skin tone or take a risk and wear a bold color you've never tried.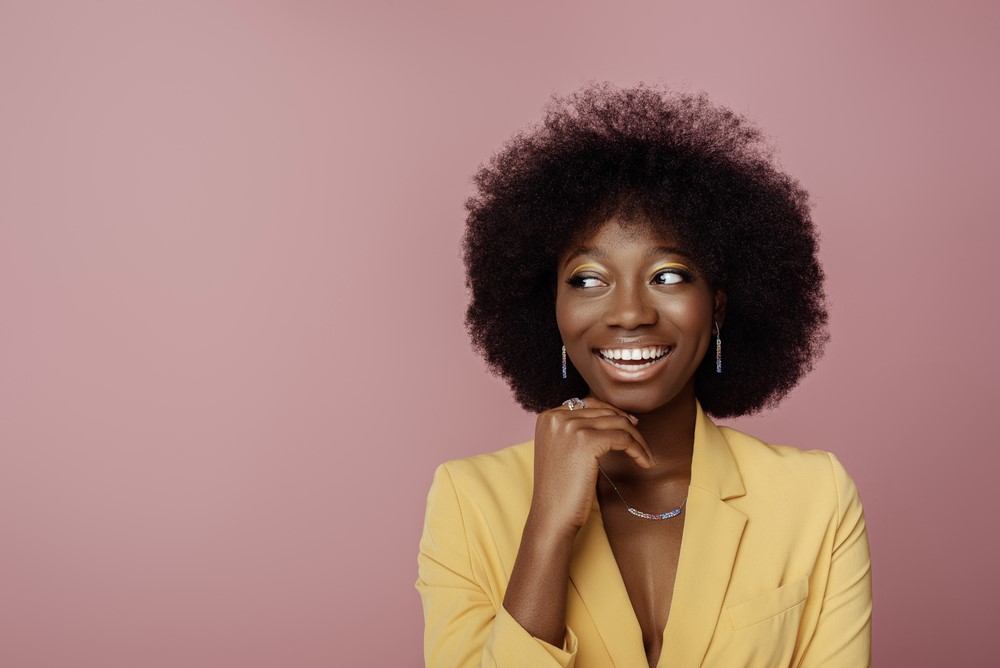 Top Off Your Look with a Colorful Blazer
Instantly elevate your wardrobe by adding a brightly-colored statement blazer to your closet. This bold blazer can top off any day to night look while also giving you a fresh new look. We love bright orange, pink, red and neon green hues. Don't be afraid to go bold with this look, especially if the rest of your wardrobe is neutral or monochromatic.
Also Read : 20 Summer Wardrobe Essentials You Need To Know
Create Emphasis with Your Handbag
If wearing color really isn't your thing, we respect that! Everyone has their own style and personality. However, if you are trying to branch out and wear different colors, you can always sport a statement handbag in a bright color. The great thing about a handbag is that you don't have to fully commit to wearing it the whole day like you would have to with a piece of clothing. This is a great way to dip your toes into color!
Conclusion
Are you ready to bring some color into your wardrobe? We hope you're feeling confident in creating a bold, new look with these colorful accents!