Introduction
It always feels good to embrace fresh and trending shoe styles in your footwear wardrobe. Celebrate this exciting summer and prepare yourself for what is in demand. When it comes to choosing shoes, the shopping experience becomes more fascinating than ever. Find out the trending summer shoes in 2021 and get ready to shop for your favorite version. You might be a little surprised to see a few most practical styles. Whether you want to wear an elegantly fit outfit or casual jeans and a T-shirt, these shoe styles will make you look great and feel comfortable. With comfort on the topmost priority, these styles will absolutely work with your wardrobe.
Flip Flops – Shoe Styles
Well, this one is pretty predictable. Flip flops once again stay on top of the summer trending shoe styles. From 90s-inspired heels to delicate platform soles, they make for an all-time popular classic summertime choice. They go perfectly well with casual outfits. It is no surprise why you will often see many celebrities wearing flip flops. You can wear them with slip attires or jeans and walk in style.
Sports Sandals – Shoe Styles
Millions of people around the world are facing pandemic challenges. Under these circumstances, staying physically active has utmost importance. The lifestyle influences the fashion trends as well. Whether you want to hit the trails or looking for a durable and comfortable pair of hiking shoes, the sports sandals provide the highest level of support, comfort, and traction. They make for a perfectly handy option allowing ultimate foot freedom and breathability. Are you ready for the big campout day?
Also Read : How To Wear Over The Knee Boots
Flat forms – Shoe Styles
With platforms returning to the shoe trends every year, their sole has been adapted to a flat surface. What else can be more interesting than staying comfortable when performing your routine activities? The best part is you will find great versatility in this style. From a lower platform to a sky-high pair, there are wide-ranging styles to choose from. You will love to nail this trend.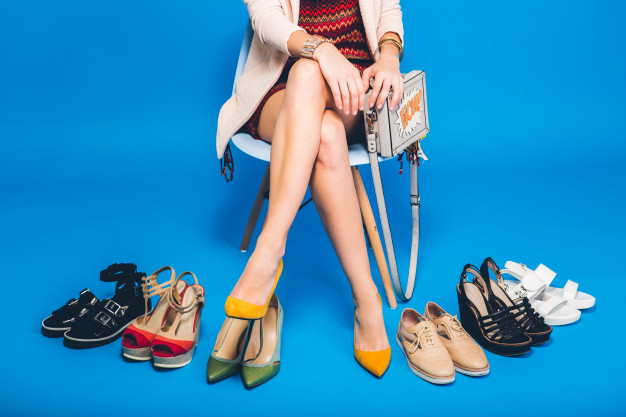 Pastel Sandals
Sandals are a must-have for your summer wardrobe. This season run the extra mile and wear a heeled pastel shade sandal. These pastel hues will add up to the color tone for a stylish look. With many color options available, you will love to opt for one or more pastel shades. Not only it looks fashionable but makes you feel incredibly comfortable. This trend is gaining immense popularity day by day. Embrace the perfect summer look wearing these on-trend sandals.
Mules
Mules were the super renowned footwear back in the 16th century. Today, they have been tremendously adapted to stand out in the fashion world. Mules won't be going away soon. The heel form of mules is commonly being used for a sophisticated look and at the same time offer a little more comfort and ease. You can conveniently style them with high-waist denim for a statement fashion look.
Square Shoes
Every season, you are more likely to choose among certain formal and semi-formal styles, this time we would love to mention the square shoes. We have seen these latest bold styles on the street fashion and catwalk. The square toes offer a minimalist look for a bold and statement appearance. The strappy sandals add up to the season's elegant elements. You can choose among the sculptural square-toe or wide strap sandals for a more chic look. Wear this trendy sandal style with front-slit trousers for a unique and attention-grabbing style.
Clogs
Do you want to go back to the 70s look? Well, get your hands on the clunky clogs with a hippie outfit and wide-leg jeans. Although you can style them according to your personal preference for a more trendy appearance. Clogs have been every mom staple for several decades, isn't it? These best-selling footwear have entered the fashion community in no time. From the wooden clompers to rubber styles, there is something for everyone.