Introduction
Mehendi ceremony is an essential function at weddings. Stunning, elegant, and intricately detailed, a mehendi design is a body art that has won many tastes today. Enhancing your arms and legs, covering any exposed skin, the curves, lines, and patterns of a Mehendi enhance any party outfit you wear. This love for Mehendi made such an impression in our hearts that we decided to create this page. The Mahandi ceremony is one of the most important rituals of a wedding ceremony. All brides want their Mehendi designs to be the best and the highlight.
Mehndi, also known as henna worldwide, is a paste often associated with luck and positivity. It is one of the firstborn forms of body art created by humans. Women load their hands and feet with the Mehandi on auspicious occasions. Whether it is weddings or festivals such as Diwali, Bhai Dooj, Teej, or Eid, Mehendi is a popular way to soak up the party feeling for most girls. While some women swoon over her aromatic scent, others adore her hands adorned with pretty and intricate Mehendi patterns. But now, it is common for men to apply mehndi as well.
Mehendi paste is derived from the powdered dried leaves of the henna plant. The leaves are dried under the sun and then crushed into a fine, mossy green powder. It is then mixed with an appropriate amount of water, lemon juice, and a few drops of eucalyptus oil to make a smooth paste. The paste is further soaked overnight to infuse all the ingredients, be then poured into a plastic cone for application. The word 'Mehendi' is originally derived from a Sanskrit word 'Mendhika,' which refers to the henna plant itself.
Famous Mehendi Designs you should know Arabic – Mehendi Designs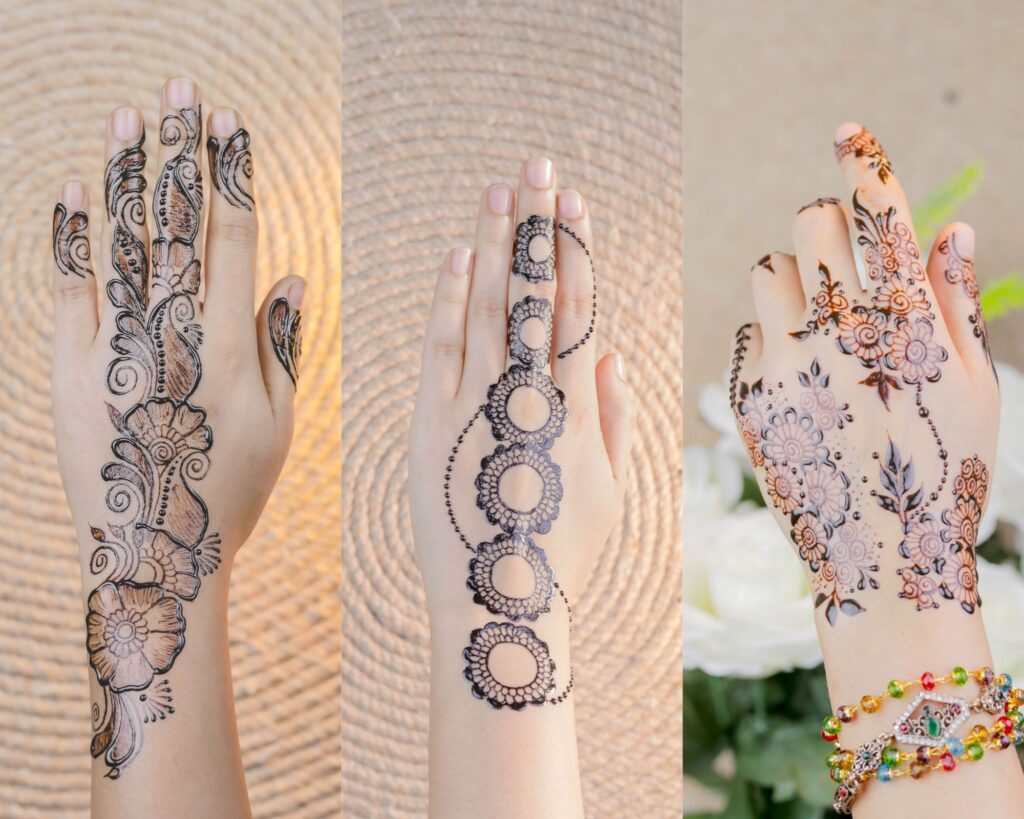 It's quite a common mistake to associate the art of mehndi with only South East Asia. Not many people know that henna, the temporary body art, is popular in India, Pakistan, Bangladesh, the Middle East, and many Arabic countries. Yep! There are some cultural similarities between South East Asia and the Middle East, a shared love for stylish and beautiful Mehendi designs. Their elegance, love, and passion for henna have resulted in a unique genre called Arabic Mehndi.  This is one of the most loved and sought kind of designs among women of all ages, and it is also what this page is all about.
 If you're someone who wishes to enhance the beauty of her palms and feet with gorgeous Arabic Mehndi Designs, then this page is for you. Here you can explore a variety of elegant patterns, creative designs, and trending images. These include high-quality pictures of floral artwork, free-flowing diagonal trails, architecture-inspired patterns, leafy motifs, and neat checkered arrangements – everything a girl might look for no matter what the occasion; this gallery contains mesmerizing designs for all purposes and celebrations. Wedding ceremonies? Eid? Of course.  Even parties and fashion shows? Yes, undoubtedly!
Bridal – Mehendi Design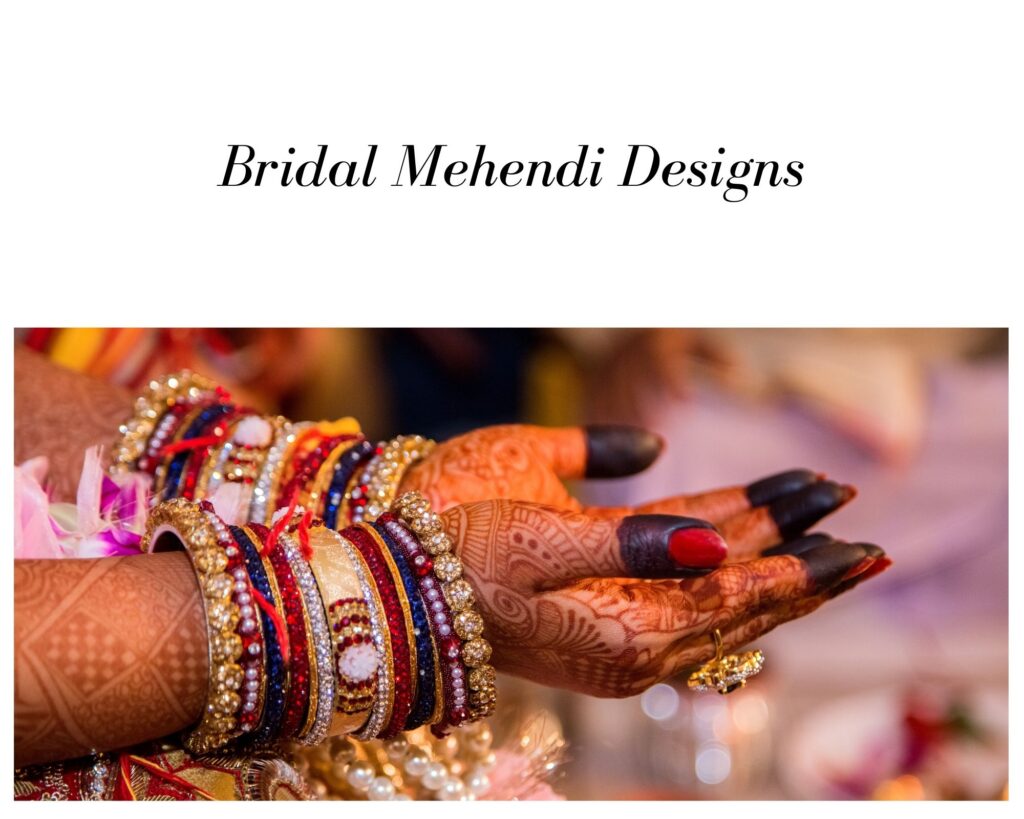 Among the variety of pre-wedding functions, if there is something that the bride and her tribe appreciate the most, it is Mehndi. While mehndi preparation includes arranging floral jewelry, selecting the outfit, and creating a cute photo booth with accessories, the essential element is picking the right mehndi design for the big day. When it comes to henna designs, brides will have their favorites. Some will like a simple mehndi design, while others want to do their best with an intricate bridal Mehendi design. Whatever your taste in mehndi design, we've got you covered with our 50 best mehndi design images we've seen of real brides.
Mehandi designs this list includes everything from sparkling henna to the trendy Arabic mehndi design that is mostly loved by Ladkiwale's friends, aunts, and cousins. Please scroll down and pin all the designs you want to show your mehndi artist on her wedding day. Bridesmaids and other rishtedaar can see these henna designs, too, as there are plenty of images with minimal mehndi design also! One has to take care of their nails to look pretty with their mehndi designs
Also read : 13 Easy Home Remedies For Dry Brittle Nails
Indian – Mehendi Design images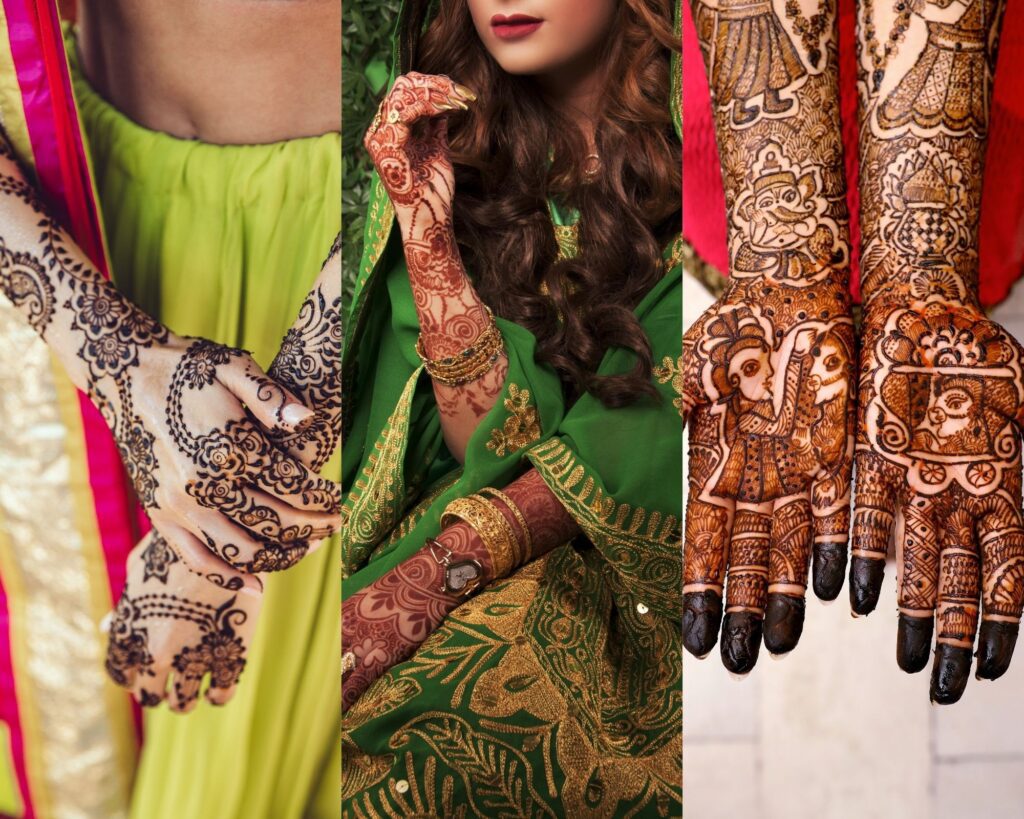 Mehendi Designs for Eid
You will rarely find a woman without mehndi-adorned hands-on Chaand Raat day. It is an integral part of India's traditional festivals and the Middle East; Girls of all ages decorate their hands and feet for the occasion. Below are some great designs that you can change to Ramzan Eid.
Rajasthani Mehendi Design
Rajasthani Mehendi is famous for the darkest red tint on the skin. Not only the hands, but you can also decorate your feet with Mehendi art and bring good luck to your life. The beautiful scent and the lucky charm it carries will surely make you taste it on yourself and your loved ones!
Peacock mehendi design
Seeing someone who has eye henna working on her body is quite overwhelming; it becomes more intense when you hear about this art's symbolic value. Peacock mehndi compositions are a meaningful design that grabs attention almost immediately. These exude pride, innocence, grace, and beauty.
Simple Mehendi Design for Weddings
Mehendi is an essential part of Indian weddings. Mehndi ceremony is considered auspicious for Indian brides. This ceremony takes place the day before the wedding to wish the bride good health and prosperity as she embarks on a new wedding journey of a lifetime. From the bride to all married girls and women, they all take care of Mehendi for weddings. It is also essential that brides fill their feet with mehndi. So here are some of the most straightforward mehndi designs for a wedding that you must see.
1.multi-models and stylish – Mehendi Design
This elegant mehndi design is perfect for brides who want to strike a balance between tradition and modernity. There are leaves, floral prints, jaalidaar patterns, and an eye-catching play of bold and light strokes. Prominent empty spaces add to the contemporaneity of this design.
2. Fascinating flowers
Pretty, delicately tied floral ankle boots create a stunning wedding Mehendi design.
3. A dragged pattern
Although it is common to have Mehendi streaks on the reverse, this is one of the few simple mehndi designs with a well-detailed Arabic trace on the front. Sounds fantastic.
4. Raja-Rani's love
A simple half-covered mehndi design with a king design in the center in the middle of a circular frame. The maze with swag floral highlights on the fingers looks intricate but is easy to draw. Bare skin makes this design so suitable for modern brides. On the other hand, the same design can be reproduced with the motif of the queen.
5. Traditional feeling – Mehendi Design
The Sindoor moment is one of the most touching and emotional times for Hindu couples. This is one of the holiest times when the groom fills his bride's maang with sindoor. This ritual can also be incorporated into the mehndi design.
 6. For the mother of the bride
It is also a ritual for the mother of the bride to have her hands loaded with Mehendi. This design aesthetic is perfect for the same.              
How to darken your Mehendi design?
Post mehndi, it is essential to make it darker. So, here are some tips for doing it:
1. Always use natural henna for Mehendi and avoid all chemical colors. Natural Mehendi gives a natural color.
2. Before the Mehendi, wash your hands with soap properly as it will remove all the dirt from your hands.
3. Before applying Mehendi, you can rub some eucalyptus oil on your hands. This will make your Mehendi darker and more beautiful.
4. Once the henna dries, mix some sugar with lemon juice and rub it on your palms and feet. Please do not do it after washing the Mehendi.
5. After applying sugar and lemon to your Mehendi, heat some nails in a bowl and run your hands over it to darken the color.
6. You should avoid washing your hands with water for at least 12 hours after finishing the Mehendi.
7. Avoid blow-drying your Mehendi as it can damage the design and color. Let it dry on its own.
8. Do all your waxing or shaving before the mehndi because post-Mehendi can damage the design and color.