Introduction
Heels will always be the go-to way to dress up an outfit, and the Flared Trousers vibe is no exception. The runway has showcased some of the most playful and exciting Heels for Spring Summer 2022, you can have fun with shoes with a chunky Platform Heel, vibrant colours, pointed toes, and Square Toe Heels to name just a few. Trousers are expanding, it's time to say goodbye skinny jeans and hello to sassy Flared Trousers, this super flattering retro trend gives the illusion of an hourglass figure just remember to choose materials wisely. Flared trousers can be teamed with many of the current top trending Heels, continue reading to discover which XY London Heels complement each look best.
Heeled Mules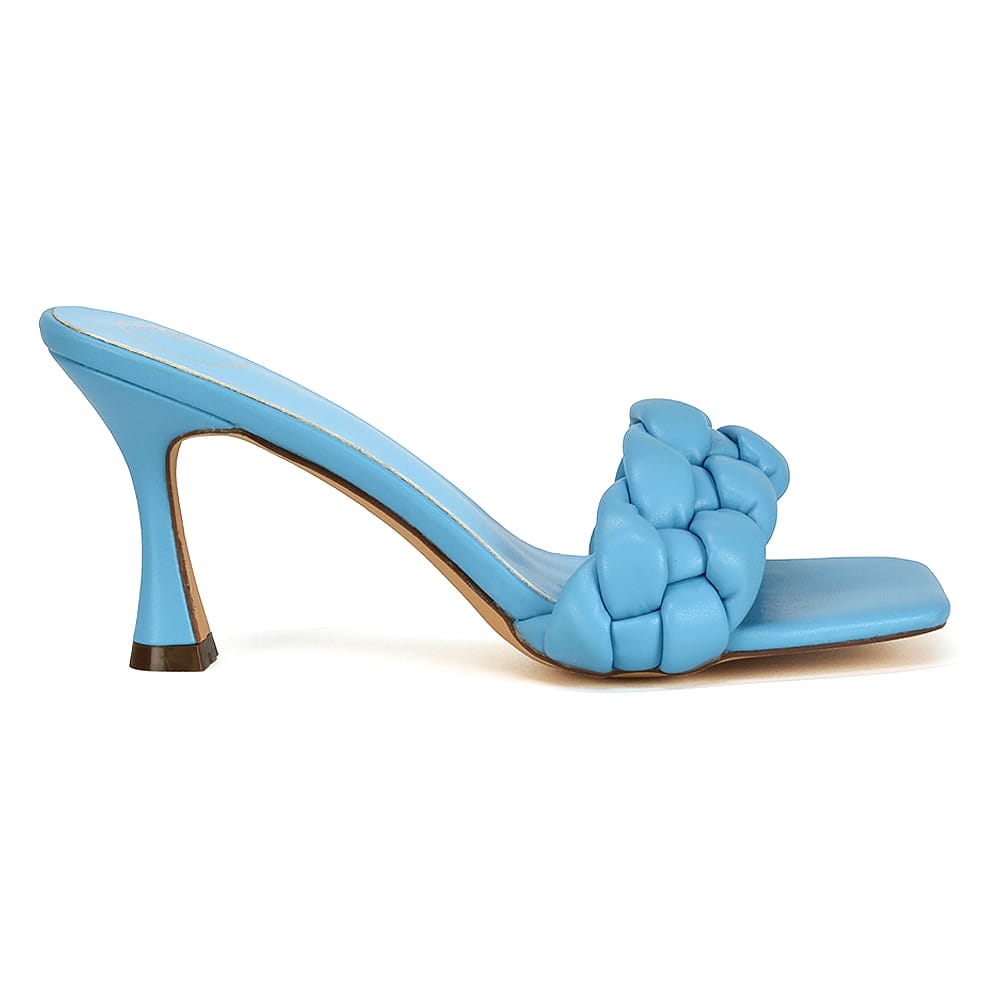 XY London Lilah Woven Strap Square Toe Stiletto Mid High Heel Mule Slip on Sandals in Blue
Heeled Mules are a must for pairing with Flared Trousers, this 90s inspired trend is still going strong which proves they're a good investment for Spring Summer 2022. Team these simple but edgy Heeled Mules with high waisted colourful patterned Flared Trousers, plain white T shirt and mini wicker handbag, this smart casual look is ideal for going to brunch with the girls. Not only are Heeled Mules perfect for styling with Flared Trousers, but they're also so versatile they can be styled with skirts and dresses too. Without a doubt these Square Toe Heels should be a staple shoe in every fashionista's wardrobe.
Platform Heel Shoes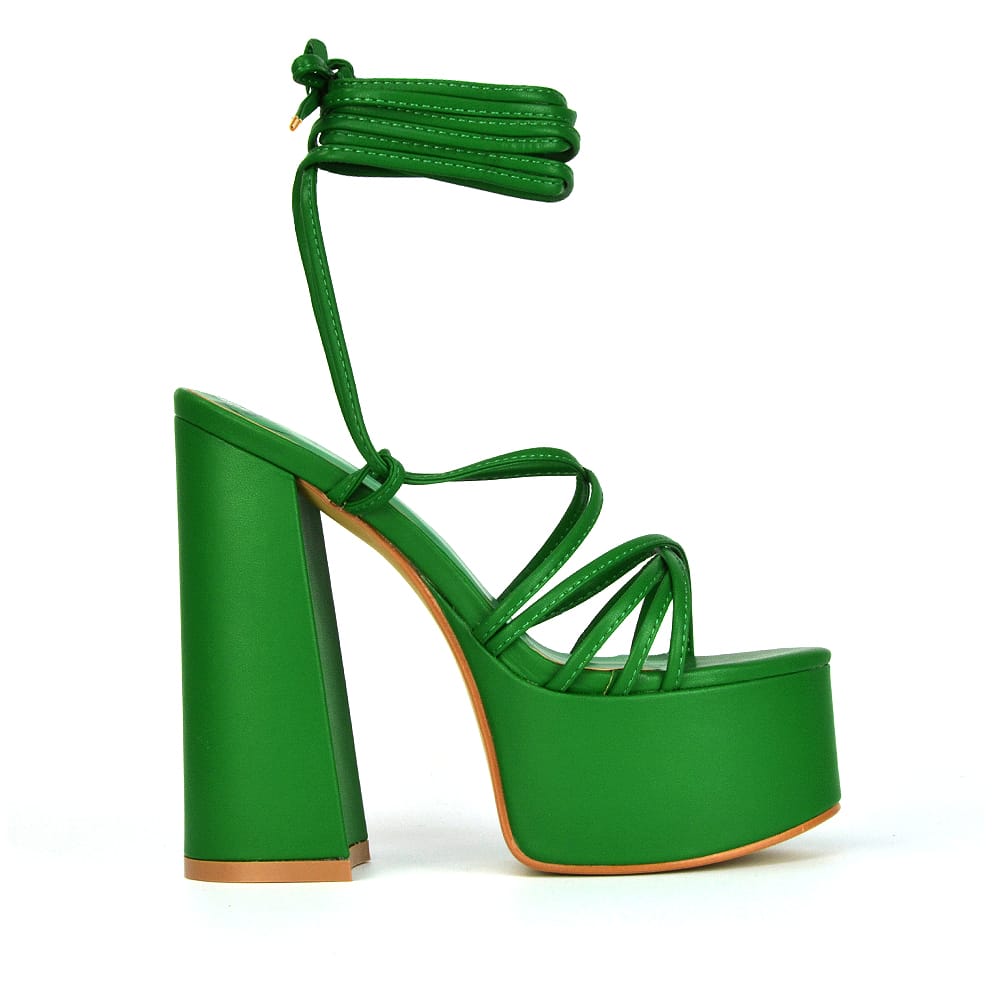 XY London Estelle Lace Up Platform Chunky Sole Block Strappy High Heels in Green Synthetic Leather
Shoes with a Platform Heel have blown up for Spring Summer 2022, Platform Heels are without a doubt the defining shoe of the year. These retro inspired Heels have been showcased by some of the biggest designers on the runway, including Chanel and Versace. You've got to be gutsy to wear Shoes with a sky heigh Platform Heel, it may be a huge trend but make sure you practise walking in them to prevent any embarrassing falls. Style a pair of Estelle Platform Heel shoes with a green patterned crochet flared trousers and top co-ord, then complete with netted oversized bag – wear this look in the evening on holiday for a chilled dinner and drinks.
Heeled Boots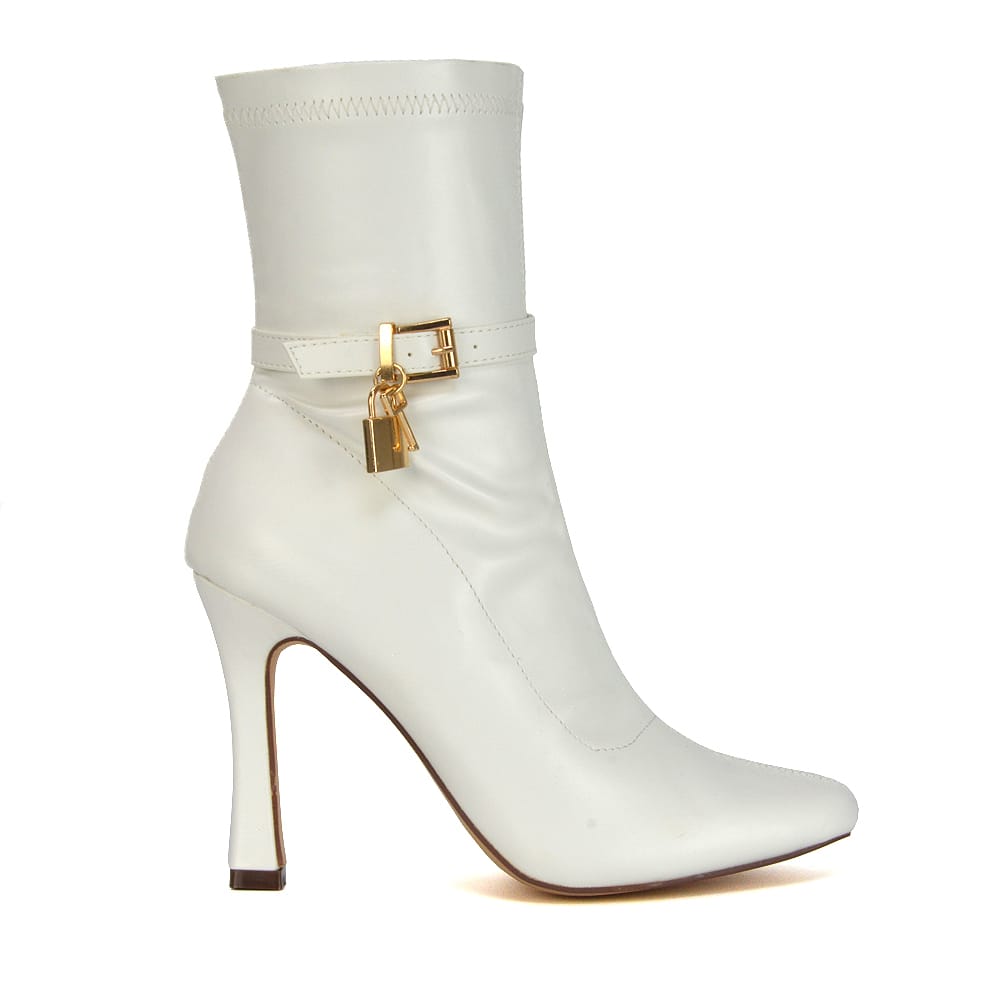 XY London Catryn Padlock Buckle Deco Pointed Toe Stiletto Sock Ankle Boot Heels in White Synthetic Leather Heeled Boots
British weather can never be trusted so for Spring, having a pair of Heeled Boots as a staple piece in your wardrobe is a must. Heeled Boots in white teamed with brightly coloured patterned Flared Trousers, an oversized white T shirt, accessorised with rectangle sunglasses, and an oversized bag creates an edgy look perfect for day drinking with your girl gang. When styling Flared trousers with Heeled boots it's important to choose a pointed toe, not only in keeping with the latest trends for Spring Summer 2022 but their feminine look matches the trousers. XY London Catryn Heeled Boots are a good choice, both the pointed toe and ankle decoration are big across the runway.
Bold Coloured Heels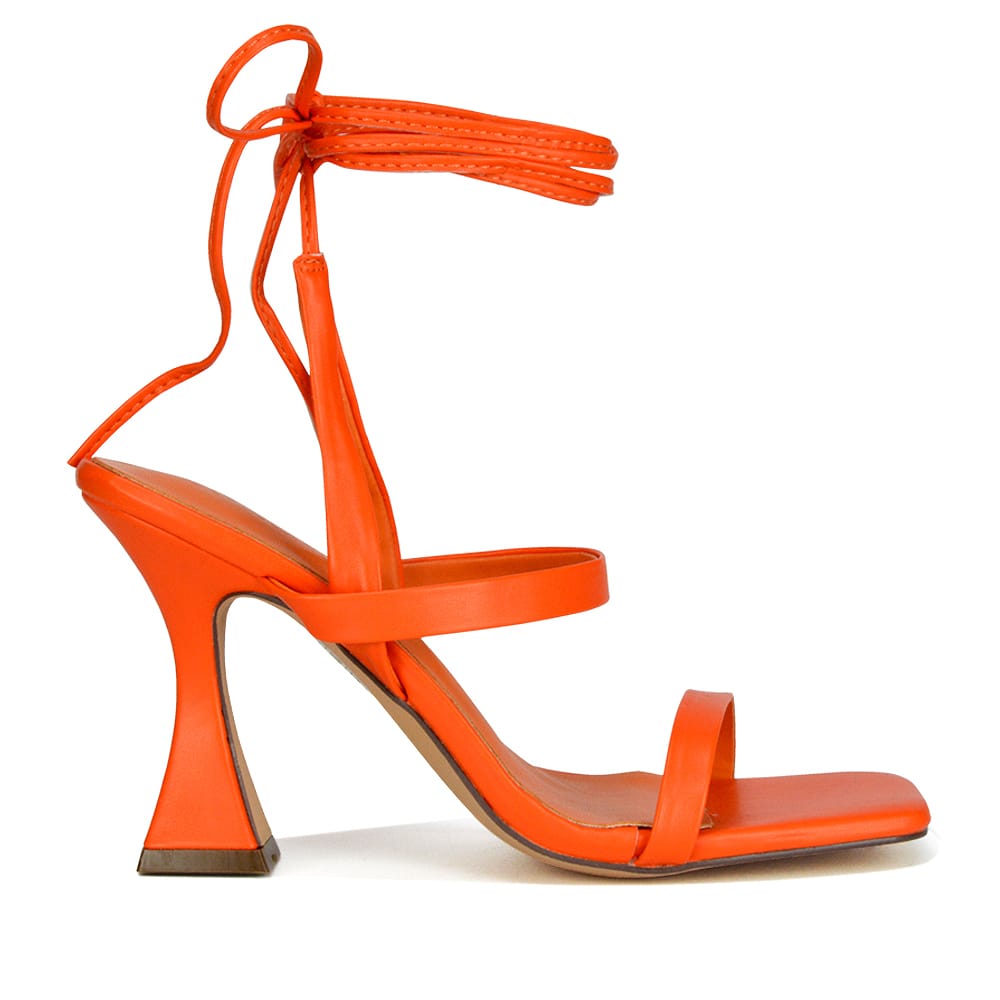 XY London Taytum Square Toe Strappy Lace Up Sandal Flared High Heels in Orange Synthetic Leather
You can style flared trousers with either strappy stilettos or Platform Heel chunky shoes, either way don't worry if it's a bold colour you've nailed it. The most popular colours for Spring Summer 2022 are Orange Heels and Green Heels, these colours can easily be incorporated into looks with flared trousers for special occasions. As a rule of thumb, no more than 3 colours should be worn together at the same time. Wear a satin orange top tucked into a pair of geometric print cropped flared trousers, Orange Heels, and orange leather look mini clutch bag.
Styling Heels with flared trousers is certainly not a chore, these retro inspired trousers can be easily teamed with so many top trending Heels. Choose Heeled Boots for colder spring days, perfect for daytime. Heeled Mules work well for smart casual occasions, ideal for a spot of brunch. Hitting the clubs then it's a job for shoes with a Platform Heel! The runway has been flooded with bold colours, so for top marks make sure you go for XY London Green Heels and Orange Heels. There are so many hot trends to get on board with for Spring Summer 2022, if it's got a Platform Heel, Square Toe Heels, pointed toe or bold colour you're on your way to creating the perfect look with flared trousers.