Introduction
Yes, the engagement photo session is always an exciting time — and it should be! However, you'll be taking plenty of photos together over the years so don't put too much pressure on yourself. You don't have to grab every piece of jewelry you own and every outfit from your closet. Less is definitely more here, but that doesn't mean you can't have fun!
What Not to Wear for Engagement Photos
Too Much Jewelry
As we said, less is more. Go ahead and grab your everyday jewelry and dress it up a bit. However, you don't need to buy 10 new pieces and try to wear them all at once. Pick a few things you like and just commit to those. You'll have other photoshoots, so don't worry too much.
Anything You Don't Feel Comfortable In
Unless you've spent extensive time in front of a camera, you may feel a little nervous going into your engagement shoot. Even if you've spent time modeling, it's very possible that the two of you haven't been in many (if any at all) photoshoots together. It's going to take some time for you two to warm up, so help that process along by only taking outfits that you know and love.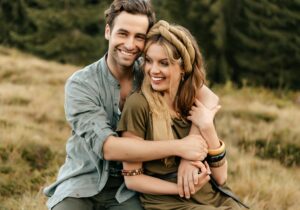 Source: shutterstock.com/Alexander Shunevich
Tips for a Good Engagement Photoshoot
Don't Pick Too Many Outfits
All you need here are a couple of good ones. Definitely keep it in the single digits unless you've got a whole weekend dedicated to engagement photos (hey, we don't know your life). One to three is probably fine, but just remember you don't have to squeeze all your dream photos out of this one session. Keep it simple.
Hire a Team
You might not get a whole wardrobe team, but a professional to do hair and/or makeup sure isn't a bad idea. Besides, who doesn't want to feel like a movie star for a day? This definitely isn't a requirement, but it can be a lot of fun if nothing else.
Give Yourself Plenty of Time
If you take one tip, it's this — don't rush it. Take your time and book a long enough time slot. Just expect that it's going to take you a bit to be comfortable and warm up to the camera as a couple, so build that in. You don't want to feel rushed here.
Get a Pro
Not everyone is going to do engagement photos right after the proposal. While you absolutely can, there's definitely value in waiting a few weeks to get an engagement shoot set up. Regardless of when you do it, hiring a professional is always worth the money.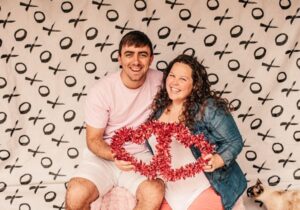 Source: shutterstock.com/Cowen Duggar
What Jewelry Should I Wear for Engagement Photos?
Ring
Obviously, you want to showcase your affordable engagement ring to the world. Stylish and frugal, who wouldn't be jealous? Your ring is going to be a huge part of the show here, so you don't want too many other rings (if any) in your shoot. Unless you have another ring that has serious sentimental value, one ring is all you need here.
Necklace
You want to stick to classic stylings in all aspects of engagement photo jewelry, and the necklace is no exception. Anything that seems like a fad probably is and may not age well. Now, if you don't mind that your jewelry may not age well, then have at it.
As a general rule, though, classic and minimal styles like simple pendants and chains are going to age better than bolder choices.
Earrings
Earrings are going to follow the same trend as necklaces, but you have a bit more room for expression. You aren't relegated to just stud earrings (though they are a great choice). If you want something with a bit more visual intrigue, drop earrings or small hoops are a great choice. Whatever you choose, take care not to overpower the engagement ring.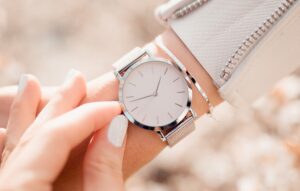 Source: shutterstock.com/Dmitri Gromov
Watch
While not always a common choice in engagement ring photos, there's no reason you can't wear a watch at your engagement shoot. Consider wearing it on your non-ring hand for some added visual symmetry and intrigue, though.
Anything Sentimental
If you've got an heirloom piece of jewelry or a piece with a story, there's no reason you have to leave it at home. If you feel it belongs in the photoshoot, bring it. Talk to your photographer about it and get some professional insight on how best to incorporate it into the shoot.
At the end of it all, it's your engagement photoshoot. While these are good guidelines to consider, you can throw them all away if you like. You probably shouldn't. We worked hard on putting these together. Up to you, though.
Whatever look you want to craft for your engagement photoshoot, bring it up to your photographer. If you've got pieces of jewelry or a certain outfit you just have to incorporate, your professional is going to be able to make it work.