Introduction
Ethnic Wear- Indian clothing collections are undoubtedly the most versatile apparel in the world. Indian cultures and traditions, as well as Indian fashion, are the most diversified.
Clothing is an important component of Indian fashion, and excellent dressing is impossible without quality fabrics. It's wonderful to wear trendy clothes, but the fabric detailing goes into crafting the favourite garment that allows you to make your unique style statement.
Nowadays, with evolving technology, everything is available on the internet. You can avoid all the hassle in physical Indian ethnic stores and buy Indian ethnic wear online. Indian cultural wear is timeless and eternal.
It has evolved significantly throughout time. Fashion designers have shown remarkable initiative and creativity in making the best designer ethnic wear for Indian ladies.
Not only can women look great in ethnic wear, but even ethnic wear for men has collections that are made to look incredibly stylish.
Types of Indian Ethnic Wear to Choose From
Shop women Ethnic dresses online come in a variety of options. Indian attire enhances the beauty of all you lovely women dress. They divinely fit your figure, making you look like an aesthetic queen. Listed below are some of the latest ethnic wear for women.
Saree
The saree is an Indian traditional wrap-around clothing that dates back to the Indus Valley culture. It is one of the most well-known styles of Indian clothing. There are 80 different styles of classical drapery sarees across the subcontinent. The traditional silk saree is always a safe bet.
Traditionally, sarees were drapery garments. But today, there is a substitute: the sewn and pre-stitched saree, which can be worn like a dress and does not require draping.
Silk sarees are one of the best options for ethnic wear for weddings as they look stunning at basically all occasions and family gatherings.
Salwar Kameez
Among all the styles of Indian clothing, the salwar kameez is the most comfortable. It consists of a salwar, kameez, and a dupatta. A salwar is a loose, pleated pyjama that fits snugly at the waist and tapers at the ankles. A kameez is the upper half of the clothing we wear over the salwar and is knee-length or longer nowadays.
Trends change, such as the style of salwar, kameez, and dupatta, but the basics remain the same. In recent years, we've seen very short and ankle-length kurtis coupled with various styles of salwar, such as trouser style, asymmetric, or patiala.
The dupatta has also taken on Indo-western characteristics such as frills, laces, and feathers. It is a formal Indian dress that is far more comfortable and elegant than a saree or lehenga.
Lehenga Choli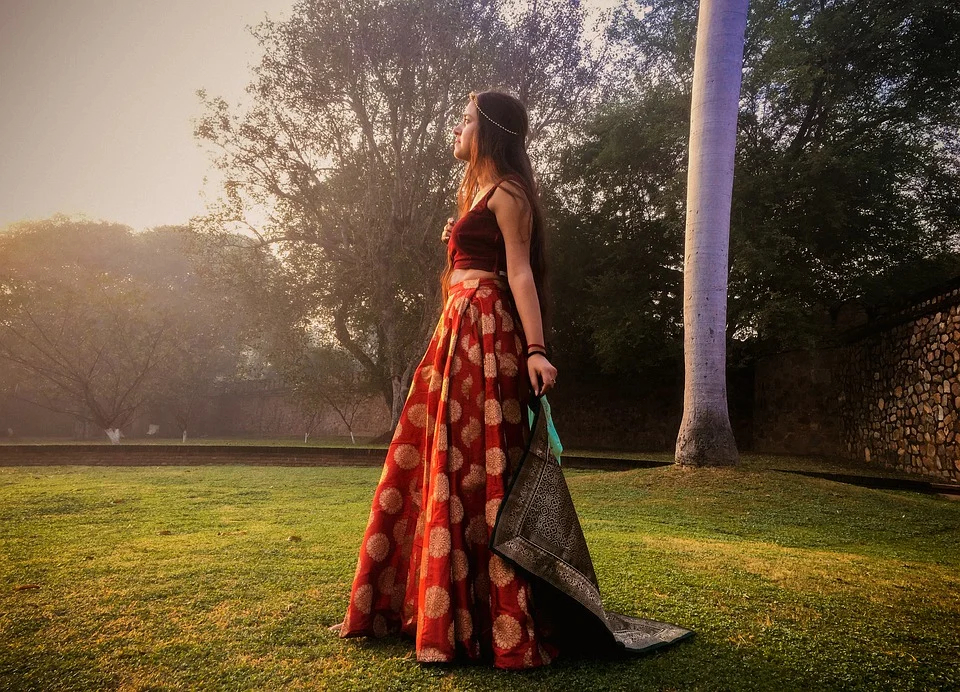 Almost every woman's favourite ethnic dress is the lehenga choli. The lehenga choli is now available in a light fabric with new and exciting designs, unlike before. Today, lehengas with long kurtas are made with various fabrics and in different styles, giving people a plethora of options for feeling comfortable and confident in what they wear.
The lehenga choli is still just as popular. However, the shapes, silhouettes, and surface work of the choli, dupatta, and skirts have altered recently. It has become one of the top choices in ethnic wear for girls.
Indian Gowns
Another western-inspired costume is an Indian gown frequently worn with a dupatta and adorned with decorative patterns and work. During the last decade, Indian gowns have become one of the most fashionable types of Indian dresses.
There are various types, like off-shoulder, one-shoulder, bell-sleeved, saree-style gowns, etc. They are frequently coupled with shrugs, capes, and jackets, twisting the gown concept. Western-inspired embellishments such as feathers, bows, fringes, and more have often been seen on the runways.
Kurtis
A women's closet is incomplete without a kurti. A kurti is the most popular outfit for every lady since they are comfortable and attractive. You may easily discover several types of kurtis on the market that you can pick based on your style statement.
Kurtis come in a variety of styles. Anarkali kurti, tail cut kurti, flared kurti, Indo-western style kurti, long-straight kurti, Pakistani kurti, and many more are popular.
Best Materials for Your Ethnic Outfit
India is rich in culture, colours, customs, and clothing. We Indians enjoy dressing our way, and there are indigenous materials as diverse as our vibrant culture used in the manufacturing of the clothing.
Dress fabric manufacturers offer the greatest quality and variety of materials to create a perfect and designer outfit. In India, the fabric options are limitless, whether it's a saree or a salwar kameez. Listed below are the most popular choices of fabrics used in Indian ethnic wear.
Cotton
Cotton is the most popular fabric for everyone, especially in summer. Cotton is a lightweight, convenient, breathable, and soft fabric. Cotton's main advantage is that it can be used in a variety of styles and cuts and combined with other fabrics to produce more versatile designs, such as Voile, Twill, Chanderi, and others.
Silk
Silk is associated with elegance, luxury, and sophistication. In some ways, it is a symbol of luxury. It is noted for its flawless brilliance and beauty and is made from the natural fibres of the cocoon (caterpillars).
Velvet
Velvet, similarly to silk, has long been linked with royalty. It is refined, soft on the skin, and luxurious, with a rich appeal to enchant everyone. It is a costly clothing option frequently used in delicate mixes with other materials to produce some magnificent Indian costumes. Velvet is a manufactured material that may be dyed in various colours to give it an elegant look.
Chiffon
Chiffon is another manufactured fabric that is sheer, has a subtle sheen, and has the finest weaving. Because it provides dresses with an airy aspect, it is mostly used for party wear ethnic dresses. It is difficult to work with chiffon because of its slippery feel. Silk chiffons are the most treasured of the rest due to their rich and exquisite texture and shine.
Georgette
Georgette comes in two varieties: pure and faux. The pure kind is made of silk, while the faux variety is made by combining polyester and nylon. Georgette is a women's favourite for its delicate appearance, smooth texture, and beautiful loom. It has a heavy bouncy appearance and is very lightweight, crinkled, and sheer.
Buy Indian Ethnic Wear Online
To make everyone fall in love with your outfit, you must be very selective with your choices while shopping for Indian ethnic wear online. One of the best ways of achieving so is to explore fashion magazines and media sources for the most recent ethnic designs.
To look for ethnic wear for women online, you can browse internet fashion websites for fresh and intriguing materials, patterns, and designs for traditional dresses. A good fabric is essential to the overall appearance of the dress. It will be ideal if you are cautious in selecting the fabric suited for that season to keep you comfortable.
Though there are Indian traditional clothes for every body shape, knowing which one looks best on you will make your body feel and look more beautiful. Shopping online is way easier than actually going from store to store. You can scroll through various websites that give you the best quality and designs for your ethnic wear.