Introduction
Even if you are an expert on what to wear on several occasions, first dates can be still a nightmare. The first impression is crucial; therefore, that date may change your life forever. So if you want to impress your date you need to be careful about some points. When you learn these tricks, you won't have to worry about your outfits anymore.
10 First Date Outfit Ideas
Table of contents
5 ways to dress on a first date

Maxi dresses
Crop tops
Denim skirts
Jeans
Loafers

5 first date outfits to avoid

Long sleeves
Oversized coats
Mini dresses
Super tight jeans
Platform shoes
Edith Head was right: "You can have anything you want in life if you dress for it". Clothes have real power over people and their feelings. Especially at the first sight. When we think about the first date with our partner, probably the first thing we imagine is our outfits. It is unbelievable that how we wear on a specific day has a vital effect on our life. In this blog, we will give you tips on what to wear on a first date as well as the outfits to avoid. We're sure that you'll find the love of your life by blowing his/her mind with your look!
5 Ways to Dress on a First Date
There are some specific details that you need to know while dressing up to see someone for the first time. You should wear comfortable and chic pieces, and have lots of accessories. Of course, if you know where you are going. Choose your outfits according to the place that you and your partner will go. Here we have some ideas suitable for any occasion.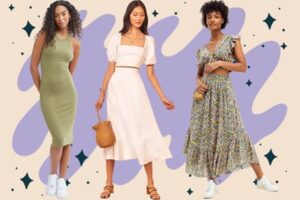 Retrieved from: minifabriek.com
Maxi Dresses
You can have a maxi dress if you want to feel comfy wherever you go. It's the easiest way to look chic, fashionable, and effortless at the same time. Your natural beauty will attract your partner with a classic feminine look.
Crop Tops
Crop tops are the easiest way if you want to look feminine and be comfortable. Also, they are so trendy that you can wear them in any place. On a beach or in a restaurant, it does not matter. All you have to think about is the color that you prefer!
Denim Skirts
We strongly recommend you to have one if you do not because denim skirts are in! Denim is basic so it never does out of style. You will always have a basic piece to wear on such occasions if you get one. They are cool and comfortable. You can combine them with a lightweight vest top and a jacket. Your skirt can be blue, khaki, white, or waxed. Choose your favorite color and show off your date.
Loafers
Loafers are the comfiest shoes to wear on a date. They are also versatile, stylish, and ideal for every occasion.  Their minimalistic look will make your clothes and accessories more eye-catching. Besides, you will easily be able to walk wherever you go with your date.  After you two get to know each other, you can wear any shoes you wish!
5 First Date Outfits to Avoid
There are some pieces you should avoid when you meet someone for the first time. We sometimes get judged based on how we look instead of who we really are. Therefore, you must be careful while choosing your clothes, accessories, makeup, and hairstyle. The critical point here is to dress up according to the place where you will go. If you are certain about that, take a look at our suggestions.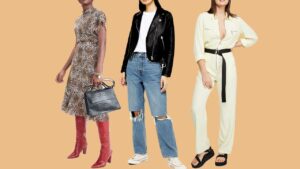 Retrieved from: https://edition.cnn.com/cnn-underscored/fashion/ugly-fashion-best-trends
Long Sleeves
The first problem with long sleeves is their length. They sometimes are not long enough to cover your arms, and sometimes, are too long. Even if you have made that mistake on your first date, make sure to wear them with a layer on top or with the sleeves rolled up. Do they really worth wearing to such an occasion? We do not think so.
Oversized Coats
Oversized coats are actually perfect to elevate your look – only if you know how to wear them. You should be very careful, especially with the sleeves. They should fit you well, or else it can be a disaster. You may look like a child in his/her parents' clothes. If you really want to wear one, we suggest you be careful about the sleeves, length, and color.
Mini Dresses
Mini dresses can be lovely at the first sight but can be a nightmare on your first date. Believe us, you would not want to wear a floral mini dress on a windy day, drinking wine in the garden of a restaurant. Therefore, before you wear what you want, you should check the weather twice. Have a backup plan if you really want to wear that particular dress. You can have a jacket or umbrella, just in case.
Super Tight Jeans
Wearing a pair of pants may look comfortable at the first sight, as long as they are not super tight jeans. Do not forget that all the first dates are in a restaurant or a bar, they can be anywhere doing any activity like walking, dancing, or even hiking! Hence, you should wear comfortable clothes that can be suitable for a wide range of occasions. Also, a lot of people think that they are unattractive and can cause health problems.
Platform Shoes
If you want to draw everyone's attention, platform shoes are ideal. However, if you want to bring only one person's attention, they might not be a good choice. First, they make too much noise. Everyone is going to look at you while you two are walking. Second, they are too uncomfortable to wear in any place. Third, it is hard to wear them if you do not use them in your daily life. Too risky to wear in a special event, right?
Bonus: Aesthetic Outfit Ideas
You do not actually have to select your perfect pieces by yourself for your first date. There are some specific aesthetic clothing styles including tops, bottoms, accessories, makeup, and even the hairstyle! For example, if you want to wear feminine clothes, try soft girl aesthetic. Or, provided that you are going to meet in a museum, dress up in art hoe clothes. Have a date who has a dark choice of clothes? Wear grunge aesthetic outfits to impress him/her!
Take a look at the "What to wear on a first date" video below to calm down for a little bit and think about what you will wear. You do not have much time!
https://www.youtube.com/watch?v=qpEfA8yVfD4&ab_channel=bestdressed