About
Angina
Angina: When there is insufficient blood flow from the coronary artery to the heart muscle, the chest pain caused by the discomfort is called 'angina.' Also known as Angina Pectoris. Chest pain caused by 'angina' is like heart palpitations. It feels heavy, as if someone is sitting on the heart. The pain can also spread to the shoulders, arms, neck, jaw, and back.
Coronary artery disease is the most common heart disease, and the main symptom of Artery disease is 'angina.' When fat deposits anywhere in the coronary arteries that lead to the heart muscle, the artery hardens, and the internal passageway narrows. Blocking blood flow through that pathway reduces blood flow to the heart muscle. As a result, the heart muscle does not get enough oxygen and other nutrients. Then the heart pounded with pain. Then the pain is called angina.
Angina pain usually occurs during any exertion. It will decrease if you rest. Also, emotional states like anger and rage come when you eat too much. This is because the blood supply to the heart muscle is only slightly protected from being completely blocked, so it only pumps a limited amount of blood to the heart when we are at rest. That means the blood supplied by it rests for that time. Hence 'angina' does not occur at that time.
When Does The Pain Occur?
When under tension or shouting in anger.

 Gets emotionally upset after hearing unwanted news.

During physical activity – especially when lifting weights

or when pushing.

When climbing stairs or walking on inclines, as soon as you are able to walk, the pain subsides.

 When the stomach is full to the point of bursting

 When in cold weather –

When you wake up with discomfort while sleeping at night.
Many people fear a 'heart attack' when they first get angina. But 'angina' and 'heart attack' have some important differences. They are:
 Temporary blockage of the coronary artery that supplies blood to the heart muscle. Angina is the pain that occurs when the heart muscle does not get enough blood.

 A 'heart attack' occurs when the coronary artery that supplies blood to the heart muscle is completely blocked, and the heart muscle is damaged.

 Angina pain can be relieved by resting or taking nitroglycerin tablets (e.g., Sorbitrate, Angiz, etc.).
There Are Three Main Types Of Angina They Are: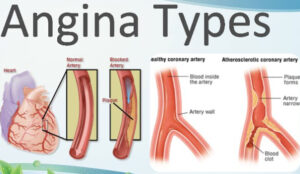 Stable angina

Unstable angina

Variant angina or Prinz Metals angin (

Prinzmetal's angina)
Stable Angina:
This is the most common type of angina. It occurs when the heart has to work harder than usual.
Oftentimes, we feel it coming when it comes.

Any small effort, like climbing stairs, makes the heart feel heavy.

It is only for a short period of time and can last up to 5 minutes.

Taking rest and taking medicine for angina will reduce it.

Feels swollen due to indigestion.

The pain may also spread to the shoulders, back, and other parts.

Chest pain in stable angina is not a heart attack but can be taken as a sign of a future heart attack.
Why Does Heartache Occur?
A heart that has done a little AP can't bear the heavy heart, and it hurts in the chest. Narrowed heart arteries, when resting (for example, lying down while sitting), can only supply the heart with the blood it needs. But even for small activities like walking and climbing stairs, the heart has to work hard. For that, the heart muscle needs extra blood supply (extra oxygen, nutrients). Chest pain occurs when the heart arteries cannot meet that extra demand.
Other Conditions Where The Heart Needs Extra Blood Are:-
 Emotion

Being in very hot or very cold weather

Eating a full stomach

Smoking
Unstable Angina:
This is a very dangerous condition that requires urgent treatment

will be required. A 'heart attack' is likely to occur soon.

Pain occurs even while resting.

 Pain waking the person while sleeping.

 Earlier the pain was felt earlier. But now, the pain is more severe without any warning. It will last longer.

 Angina does not go away even if you rest or take medication.
Why Does It Come?
Unstable angina occurs when a blood clot forms in a coronary artery and temporarily or completely blocks the artery. When a plaque ruptures inside an artery, blood can pool around the area and cause a blood clot. This further closes the arterial passage. Sometimes the blood clot dissolves and mixes with the blood, again blocking larger blood vessels. As for 'stable angina,' each time a blood vessel is blocked, unstable angina, an intermediate condition for a heart attack, can be called 'unstable angina.'
Variant Angina:
'Variant angina' is rare. Usually occurs while resting.
Occurs during sleep at midnight or early morning.

 The pain may be very severe.

 Reduces when taking medication.
Other Causes Of Angina
When there is pain in the chest, many people panic and fear that it is a heart attack. In fact, chest pain is not only caused by a heart attack but also by back injury and infection. It can be due to other reasons as well.
Indigestion Or Heartburn:
To the right of the heart is the 'esophagus' which leads from the mouth to the stomach. Also, nerves to the heart and esophagus.
Supply remains the same. That's why pain from the esophagus feels like it's coming from the heart. Heartburn comes from the esophagus like a fire in the heart. It can come back into the esophagus from the stomach after eating at night. Then there is heartburn. It usually occurs half an hour or an hour after eating or sleeping. Sometimes it can come even when the stomach is completely empty.
Heartburn and chest pain do not go away with exercise. That's why if you get pain in the chest while walking or working, it is from the digestive system. Instead, it should be understood that it comes from the heart. It is better to show it to the doctor without neglecting it.
Pneumonia (pleurisy):
Chest infections such as pneumonia can sometimes cause severe chest pain. Such chest pain is called pleurisy. This pain is sharp and sharp only on one side of the chest. Aggravated by deep breathing or coughing. Apart from this, the pain from the heart is felt all over the chest and is dull and constant without fluctuations.
Muscle Pain:
The muscles that stretch between the ribs play an important role when we breathe. Like all muscles, these muscles are also susceptible to rheumatic pain. Rheumatic pain k. Rheumatic pain in these muscles is limited to a very small part of the front or back of the chest. This pain occurs when sitting or turning in certain lying positions. This pain lasts from a few hours to a few days and will subside on its own.
Shingles:
Shingles is a severe pain around the chest that lasts two to three days. Then a blistering rash appears on the affected area.
Cold And Poo:
In the case of viral infections such as colds and flu, the virus can also infect the cartilage that holds the breastbone together with the ribs. When this happens, any slight pressure or pressure on the chest can cause pain. This pain is very different from cardiac pain.